All public lots near the Convention Center are $7, including the lot across Almaden Blvd (400 Block); the lot across the Guadalupe River is $5, and it is about a city block further of walking. The Price-Waterhouse building is $3/hour, with a maximum of $18 per day…gates shut at 7 PM sharp. The San Jose Convention Center parking garage is variable (can range from $13-20 per day).    Parking Map
**Parking in the Area is limited due to construction**
Map to San Jose Convention Center & South Hall link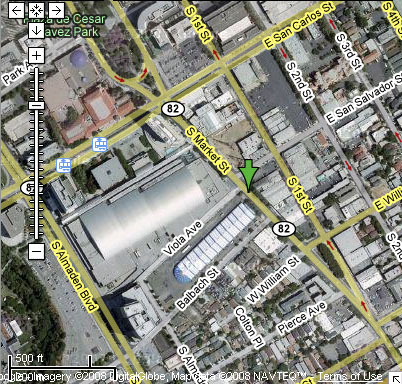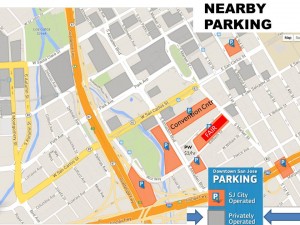 Parking Map PDF
Project/Student Drop-Off Location  (See Photo below)
Map to San Jose Convention Center, South Hall. (Click on the link which says "Get Directions: To Here").
The South Hall's pedestrian entrance is on Viola Ave (see map below). Students and projects may be dropped off on Viola, but remember that parking is illegal on Viola itself.
Parking is available at the Convention Center and at the lots near the Convention Center (see below).
Student Dropoff is at the other end of this building, between this blue building and the Convention Center building (to the right side of this picture) on Viola Ave.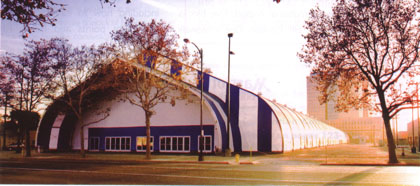 Nearby Parking Lots